So I decided to make my very 1st video in response to energy ball's question: ''how do we know
if it is energy or wind moving the paper?''.
In the following video I demonstrate/suggest a 100% certified method which proves if you are really the one moving the psi wheel or not. I insist here that ''if you can do telekinesis with no hands'' or ''if you are able to do telekinesis'' are not the concerns.
Psi wheel and heating?
Basically, if you can make the psi wheel tremble a bit and or move back & forth by simply focusing, well it's sign your 3rd eye/ mind/whatever is affecting the wheel. On the other hand (no pun intended), if the psi wheel keeps rotating and you can't interrupt or reverse its rotation in any way well it's most likely convection/heat rather than TK affecting the wheel. These previous assumptions apply for hand(s) over psi wheel outcomes.
Force push and wind?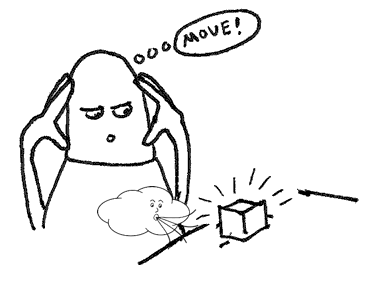 Now how do you know if it's wind or energy when you force push a target? Well it obviously depends on the movements you make (the bigger/faster = wind) but before all else remember that wind is a type of energy and further that TK, among other mystical things, consists of displacing air. Air is everywhere and it's a quite gentle element, so you know what you need to be: gentle.
Hope this helps.  


_________________
Forsaken being surrounded by everything, always wandering in a maze of dreams and delusions with frights and doubts, forever seeking to embrace that spark of truth hidden within silence... Nothing.