As many of you would agree,
energy
is everywhere and we are learning to control it. In this thread, I want to very concisely elaborate on how
energy
is distributed in universe and how we can therefore build up
energy
in us. Please note that whatever I am going to write here is purely based on my deduction and intuition, so don't just believe it 100% and you are free to think otherwise and express your own thoughts.
First, one's body lives in a specific 3D world where Earth exists. We can't access other 3D worlds physically unless we teleport or use wormhole. We can however access other 3D worlds through our spirits because spirits are 4D or higher beings.
In this figure, on the left depicts IF we live in a 2D world (e.g. a sheet of paper) and
energy
is distributed throughout a bundle of papers. On the right depicts unlimited number of 3D worlds that are
overlapping
with each other including the 3D world we live in. From some of the closely overlapping 3D worlds as well as our own 3D world, our spirits can bring us
energy
and accumulate in our bodies in higher and higher concentrations. During this process, "flux" of
energy
is created because obviously
energy
is flowing from one space to the other, in this case one's body - this is an important concept when we want to build up
energy
in our body which I will discuss soon.
Our spirits can create this
energy
flux for
energy
accumulation only if our subconscious minds want it. When we perform telekinesis, what we do is basically:
Electrical pulsation in the brain (3D process) to create one's MIND: visualisation and perception of particles we want to move (4D process) → Desire to move them (4D process) → Desire to move them in Subconscious Mind (4D or higher) →
Spirit's Action
on
Energy
/Aether/Chi/etc. →
energy
transferred to our 3D world particles we desire to move → 3D action with 3D
energy
converted from Aether/Chi (kinetic
energy
in this case for moving), voila!
Now very importantly,
Spirit's Action
also requires
Energy
/Aether/Chi. You can't just make
energy
move from one to another. I believe our spirits have or can access certain minimal levels of
energy
to begin with. If you learned telekinesis, then you learned how to control
energy
flux to accumulate in one spot because this is how you moved the object. The heavier, the particles, the more
energy
you will need. And for more
energy
, you need a greater amount of
energy
flux which really depends on how much you input (like you need more bigger tap to create larger waves of water). NOW this input depends on how much
energy
is accumulated in your body because your spirit uses it as an input to create the
energy
flux.  
It seems to be getting complicated so summarised in the following figure:
SO, from this, we know that we can build up more
energy
in our bodies if we keep this
energy
flux in the right way. Generally speaking, telekinesis practice makes you learn more
control
of your
energy
/
energy
flux and meditation makes you accumulate the
energy
in your body through the same
energy
flux except using it to move the objects. Based on my 7.5 days of experience, you don't really need meditation to accumulate
energy
in your body (although it is very strongly recommended by Mark and objectively speaking) because I almost never meditate (or maybe I mediate while I'm sleeping because this morning, I can spin my psi wheel 2-3 times faster than before

) and yet I accumulated a significant amount of
energy
in me over a short period of time (although still weak compared to many of you guys

). I suppose my main point is that from this observation, we know that as long as your subconscious mind learns how to
control
the
energy
flux and wants to
build up
the
energy
in you for a greater
energy
flux for moving bigger objects, you will soon build up
energy
in your body. In conclusion, I emphasise that the greater control of
energy
flux you learn from telekinesis practice is very important because without a
proper control
of
energy
flux, you will never accumulate
energy
in you no matter how much you meditate.
Addendum:
I believe what fiz192 and I have been recently experiencing (i.e. drawing particles to our body (in my case particles from the air creating more wind whenever I move and in fiz192's case, stuffs like straw and tin foil are pulled to his body) is basically our subconscious mind trying to constantly accumulate
energy
from outside including our own 3D world - during this process, the excess
energy
may be converted into kinetic
energy
and follow the same direction of flux (i.e. to the body).  
Addendum 2:
I believe when accumulating the
energy
in your body, ROOT is very important because it is where the
energy
flux begins and pushes
energy
to the Third Eye and comes back to the Root or can be used to create other fluxes for telekinesis etc.
Comments, feedbacks would be appreciated

Addendum 3:
Please note that the
energy
/Aether/Chi can be directly transferred to the target without having to create
energy
flux from another 3D space as depicted in the following figure: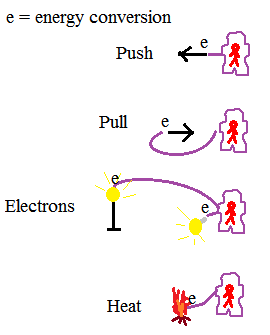 Now, you may wonder why we even have to consider 4D concept. Well first, Aether/Chi is invisible and undetectable (if not converted into a 3D
energy
form) in 3D world, so it's conceivable that such
energy
exists in 4D and easily passes through many 3D spaces. More importantly, my personal experience tells me it's a 4D
energy
: I don't have to get close to the object to have the same effects when I'm using my mind only, and the effects are as instantaneous and responsive as I do it close to the object (as a reference, you may want to check my 3 meter away psi wheel video in BEST TELEKINESIS VIDEOS thread:
http://psychicinvestigation.forumotion.com/t385p15-best-telekinesis-videos).
For those who don't know, I can keep spinning the wheel while I'm in the bathroom or in the kitchen washing dishes - and I'm only as special as you guys

*being humble*. Only explanation that fits these phenonmena is that Aether/Chi exists in 4D and involves various 3D spaces other than the one we perceive, which allow the same effects on a distant target by skipping this world's space.